Our Goal as a Team
Change the world with our movement
Create examples and the future

freee continues to push boundaries and be free from precedents or customs. freee leads various areas of business such as organizational strategy, operations, finance and human resources, and will create the future.
World-class quality

freee seeks to continue offering the best service to our users and always remain a global benchmark with the value our service provides. freee will continue to improve our products and services through investments from global investors and cultivate itself from their broad view.
Believe in members' growth

Only the growth of members can grow freee. freee makes great efforts to support each member, who possesses infinite possibilities, to allow them to grow and become a "new me".
Member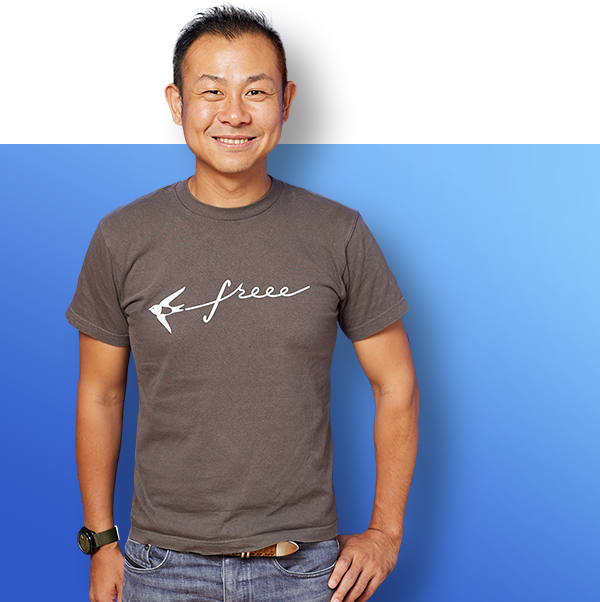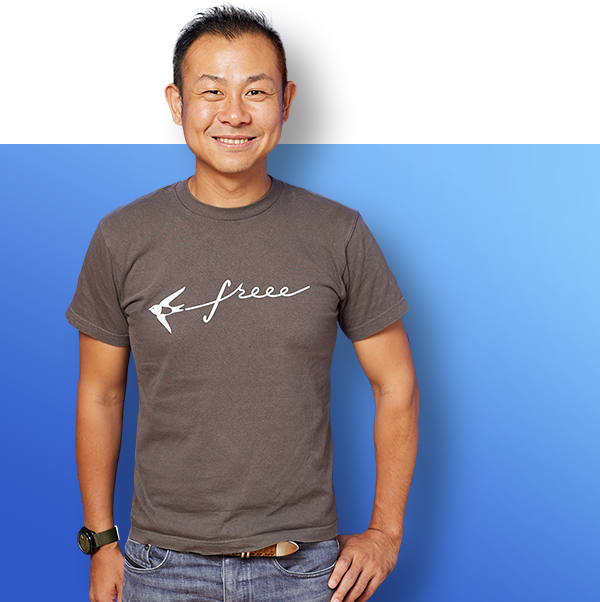 Daisuke Sasaki
co-founder and CEO
Daisuke 'Dice' Sasaki
Co-founder and CEO
Dice is the co-founder and CEO of freee, the leading pioneer of cloud-native, integrated ERP software solutions for SMBs. Dice was the Head of APAC SMB Marketing Department at Google before founding freee. Prior to Google, Dice was a CFO and VP of product management at ALBERT Inc., a Japanese recommendation engine startup, a private equity investment analyst at CLSA Capital Partners Japan and an account planner at Hakuhodo. Dice earned a BA in Commerce from Hitotsubashi University majoring in Data Science.
Sumito Togo

Director and CFO

Born in Akashi, known as Japan's meridian city in Hyogo Pref. Graduated from The University of Tokyo. Master of Engineering. At School of Engineering of The University of Tokyo, belonged to JAXA's Lab. Joined freee in 2013 after McKinsey and Google. Likes to drive, play table tennis and to play Dragon Quest III.

Masayuki Ogata

Director and COO

Before joining freee, worked at government offices and served as project manager at Accenture. Joined freee through the prospect of increasing productivity in small businesses to world-class levels. Master of Law at Stanford, and MBA at HKUST business school.

Nobuyoshi Hiraguri

Director

Joined freee as a new graduate in 2012. Released Accounting freee and Payroll freee (today's HR freee) as a software engineer and then engaged in building the engineering team organization. Playing with his children and camping at his free time. Graduated from The University of Tokyo and Chiba Univ. Graduate School. Juris Doctor.

Junichi Kawai

Outside Director

Graduated from Hitotsubashi Univ. Started his career at International Consulting of Japan and has previously worked at Recruit Co., Ltd., McKinsey & Company Inc.Japan, IMJ Corporation and Google Inc. (currently Google Japan LLC), where he concurrently serves as Executive Officer.

Yoko Naito

Outside Audit & Supervisory Board Member

Graduated from Keio Univ. Worked at the a securities company, Ernst & Young ShinNihon LLC and joined freee in 2018. Engaged in audit service of financial institutions through her auditor career. Has 2 children. CPA. Enjoys coffee every morning made through grinding coffee beans in a mill.

Ryu Yokoji

Co-founder and CTO

Born in Matsue, known as the Ruby City. Graduated from Keio Univ. Graduate School. Started system development for corporations when he was a student. Worked at Sony, and co-founded freee. Aims to redefine the existence of small businesses through the power of technology.